DISHER Talent Solutions Wins Best of RPO Provider for 2022
Written By:
Keri McCarthy | Business Lead | Talent Solutions
In 2010, a DISHER customer switched gears on me. Instead of asking for the usual contract engineer to keep their project moving forward, they asked me if I would recruit an entire team of engineers as direct hires! Say what?! They were launching a new plant and needed to find quality people—and fast. This customer was frustrated with transactional recruiters and liked and trusted the talent that DISHER consistently provided them. We ended up meeting this need with flying colors and DISHER Talent Solutions was born!
Flash forward to today. I would never have dreamed that our unique recruiting model would lead to DISHER being recognized by our customers as a best of RPO provider for 2022. From a one man show to an amazing team of 20 Talent Consultants across the US. Who would have thought?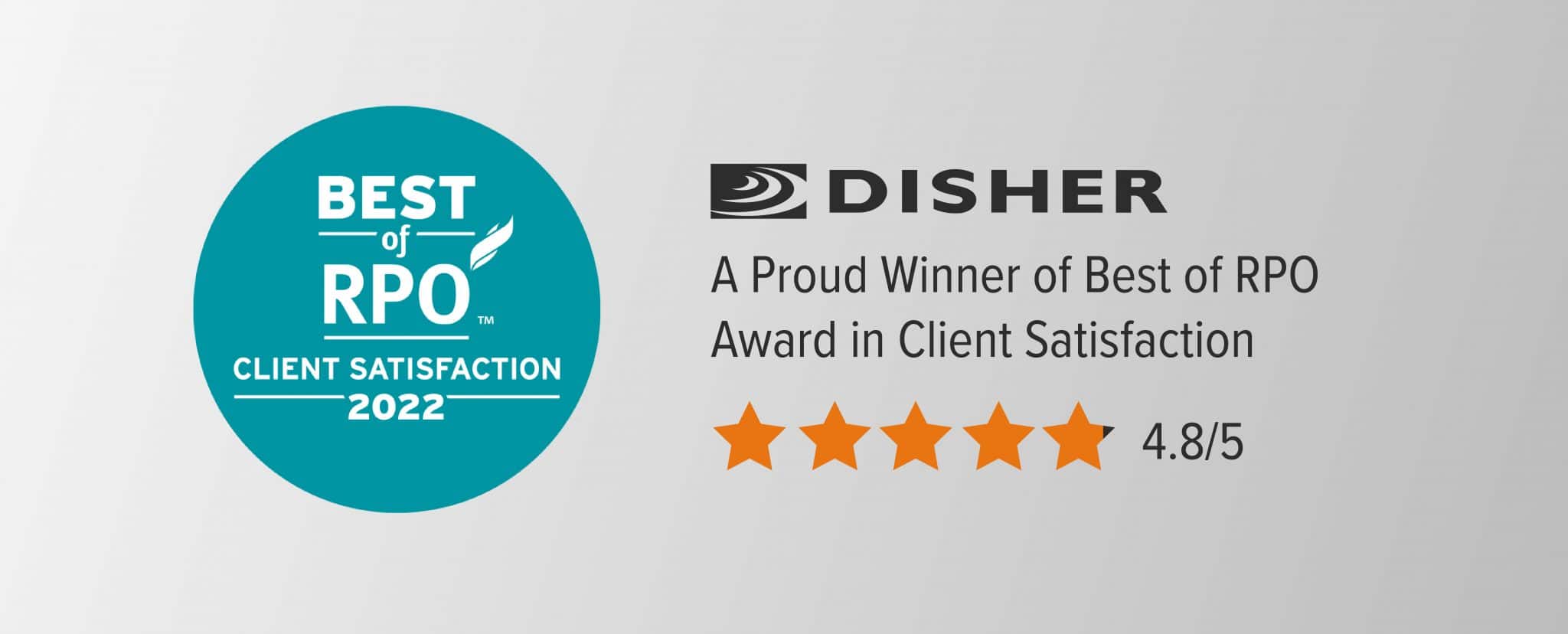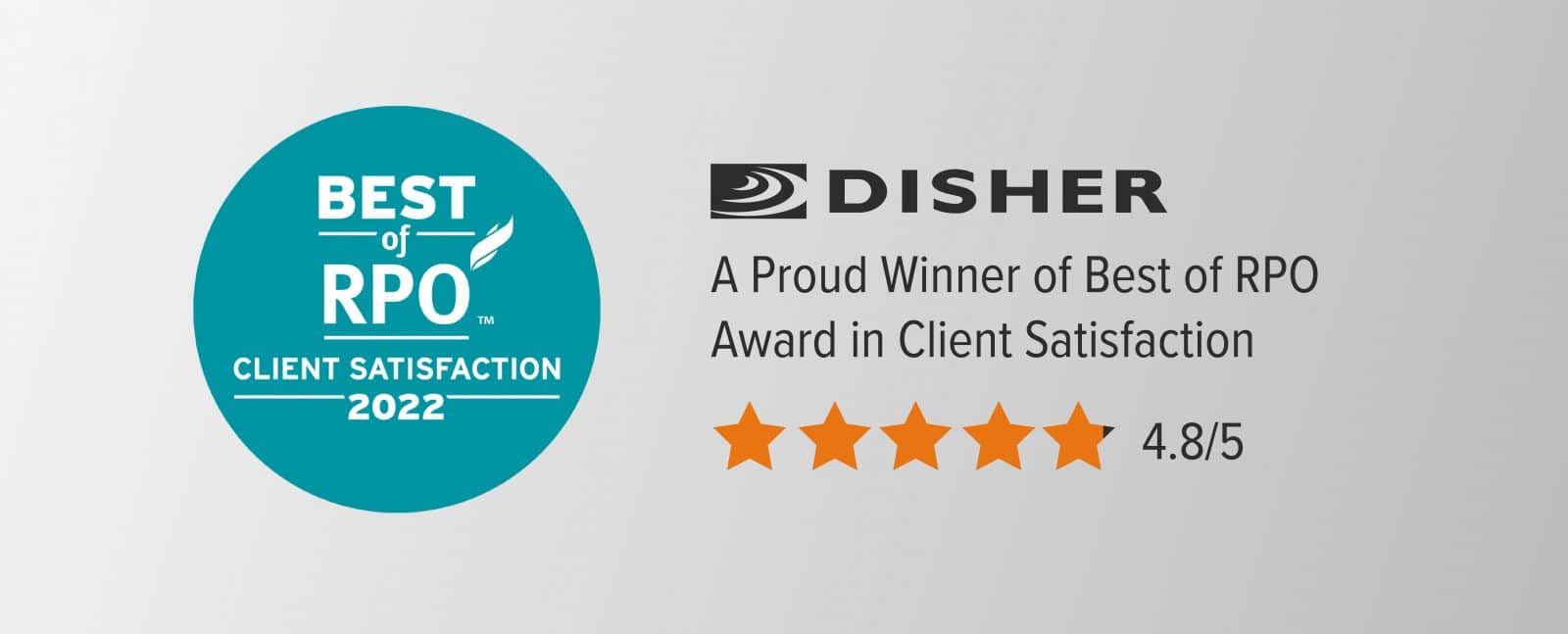 4.8 out of 5 stars in client satisfaction
How did this happen? Why did DISHER Talent Solutions earn a 4.8 out of 5 stars in client satisfaction by ClearlyRated? When we first began, our hope was to break out of the traditional, transactional, fire-drill-style recruiting mold.
Instead, we wanted to provide a customized recruiting experience where we helped clients with a long-term, strategic approach to building great teams. We are different. We intentionally collaborate with our customers. We often sit side-by-side with them learning their needs and priorities. Many times, we become part of their team. A trusted partner who truly cares about their success.
Here's what a few of our customers are saying.
"There isn't a recruiter that works as hard as DISHER to ensure their client is a true partner. Keri and her team listen, provide support as needed, and give guidance as if they were a true extension of our team. We have employees that have no idea that DISHER is contracted support. They think they are on our Talent Acquisition team…that's exactly how we want it."

"DISHER's Talent Engineers act more like team members than a vendor. We are fortunate that we have such a great working relationship with DISHER."

"The DISHER team is customer focused, responsive, and thorough. The use of data is valued. The weekly check-ins are effective for alignment. DISHER is personal, professional, and pleasant to work with."
Customers like working with DISHER Talent Solutions and they like the top talent we provide time and time again. Not only do we save time and add more value, but we employ a holistic approach that reaps benefits for the long haul.
The funny thing is—I didn't understand at the time that what we were delivering from day one actually had a name, Recruitment Process Outsourcing (RPO). I just knew that what we were doing was best for our customers. I like to say that we become their Recruiting Process Partner (RPP). Take a look at the key benefits we deliver when compared to traditional recruiting agencies.
How DISHER's Recruiting Process is Different from a typical staffing agency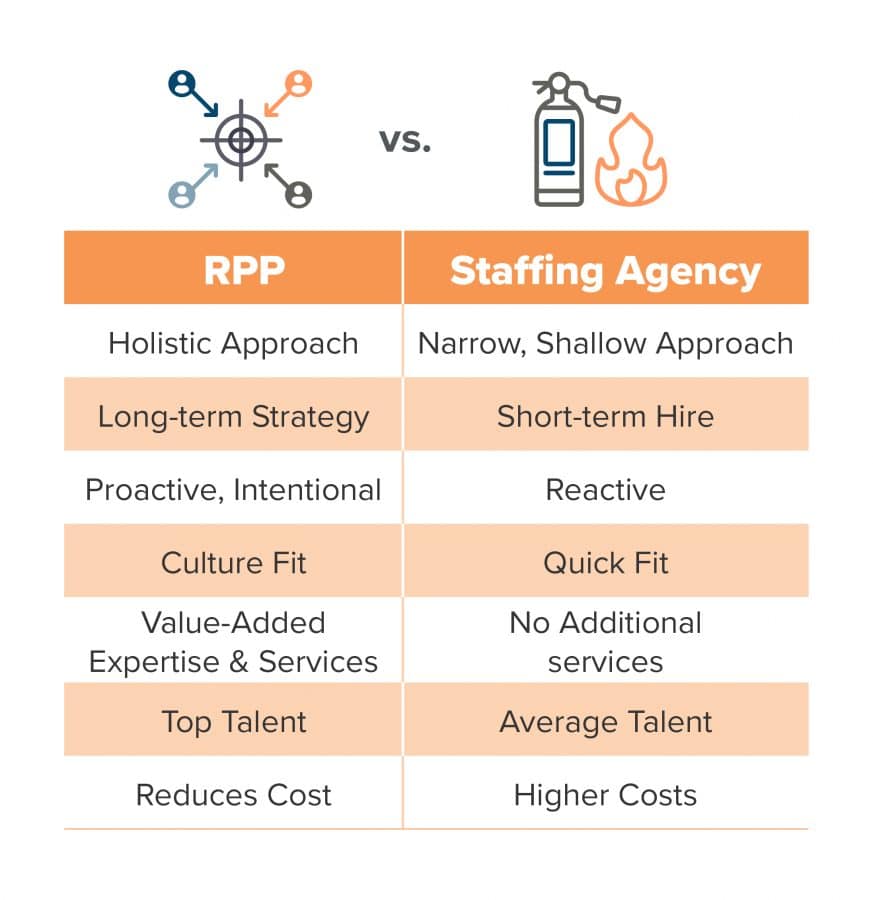 DISHER—Your Recruitment Process Partner
Word quickly spread about what we were doing. Through the years, we have added additional talent experts, streamlined processes, and expanded our knowledge base and tools. In 2019, I happened to watch an RPOA YouTube video. This organization sounded a lot like DISHER. They use the same customer-centric approach to recruiting.
I joined the RPOA to network and continue learning with other innovative talent leaders. Through the RPOA, I became aware of the ClearlyRated Best of RPO designation. After 12 years, I felt certain we had a chance at achieving this national recognition. Several of our customers went through the survey process. Thankfully, all of our hard work was validated.


As I reflect on this achievement, I am grateful to our customers for taking the time to complete the survey and express kind words. I am beyond grateful to work with some of the most passionate Talent Consultants in the industry.
This team is driven to deliver results every single day! As you know firsthand, we are in an extremely tight labor market. Fortunately, our team continues to source and vet top talent with a humble pride in what they do.
Deep down I had always hoped that DISHER Talent Solutions would create a paradigm shift in the recruiting industry. I am thrilled we have achieved this for our customers, but I know we have a long way to go in our quest to deliver the best solutions.
Talent Acquisition is a noble profession. We not only have the privilege of supporting the long-term goals of organizations, but we help candidates find fulfilling careers—and we build healthy families and communities along the way. The RPO award is nice, but the lasting benefit of making the world better than we found it through strategic recruitment means a whole lot more!
Click the button below to learn more about how DISHER's RPO strategy can benefit your long-term talent needs.