Solutions and Capabilities
What is holding you back from reaching your goals? Unclear mission, vision, and values? Weak company culture? A need for product innovation? DISHER has the experience to help companies through a variety of common business challenges.
Business Consulting Services
Discover proven ways to transform your organization for a strong and sustainable future. A healthy culture is a key indicator of your long-term success. DISHER can help you build a culture of high-performance with our people and product consulting services.
Our team of advisors offer real solutions that get at the root of your nagging pain points. We provide a cross-functional team of certified and experienced consultants in conjunction with a network of professional partnerships.
Transform Your Organization for a Strong and Sustainable Future.
There is a strong, objective link between a healthy organizational culture and business performance.
The tool DISHER uses to assess the current state of an organization's culture is called the Denison Organization Culture Assessment Survey (DOCS). The survey has built a database of over 5,000 companies and 500,000 participants. With this assessment, you will be able to clearly identify your strengths and weaknesses in four key performance areas: adaptability, involvement, mission, and consistency.
DISHER has developed a half-day culture workshop that walks through 10 core principles to building a thriving culture. We can accommodate organizations of all types and sizes either at our main office in Zeeland, Michigan, or at the customer's location.
It is recommended that your entire team goes through the workshop to bring leaders, managers, and teams together. The workshop is highly interactive with the goal of unifying and empowering every person around what it takes to develop a positive culture that will attract and retain top talent and drive increased performance.
DISHER offers strategic vision mapping (SVM) to help organizations who struggle to rally around a clear mission, vision, values, and future direction.
After organizations work through our SVM process, they receive a highly visual, one-page snapshot that communicates who they are as a company.
The standard SVM template includes why your business exists, the way you are unique, what you do, who you serve, and where you are going. The process examines and uncovers your strengths, weaknesses, opportunities, and threats.
Organizations understand the need to develop leaders worth following. Flourishing organizations energize, equip, and empower their leaders to positively influence others.
DISHER has assembled an impressive team of advisors to train, coach, and engage leaders for higher impact. We are after real transformation. Our training programs incorporate group discussions, practical assignments, and personal coaching opportunities. Our current leadership offerings include:
LEAD24/7 Focus: This training is designed for all types and levels of managers, consisting of four to seven sessions held monthly for three hours. The curriculum is based on the year-long LEAD24/7 program designed by Leading By Design.
Supervisor training: DISHER's supervisor training courses engage and equip supervisors for even higher performance, meeting monthly for roundtable sessions led by seasoned trainers around specific topics.
Custom leadership opportunities: DISHER offers tailored leadership opportunities for executives, managers, small groups, or entire teams through coaching, mentoring, assessments, and trainings.
Save time and money by expediting the creative process of product development with a one- to three-day Innovation Workshop.
During these events, customers explore the user desirability, production feasibility, and commercial viability of new and existing products, services, and systems. Participants ideate and expand concepts, then develop and rank playbooks in a collaborative and systematic way.
Product Development Processes
Product Development Process
Do you need help with any phase of the product development process? DISHER offers a team of 150+ cross-functional experts who have experience in every area of the product development life cycle: research, ideation, design, prototyping, testing, launch, manufacturing, and innovation strategy.
We use a human-centered design filter in every aspect of the product development process.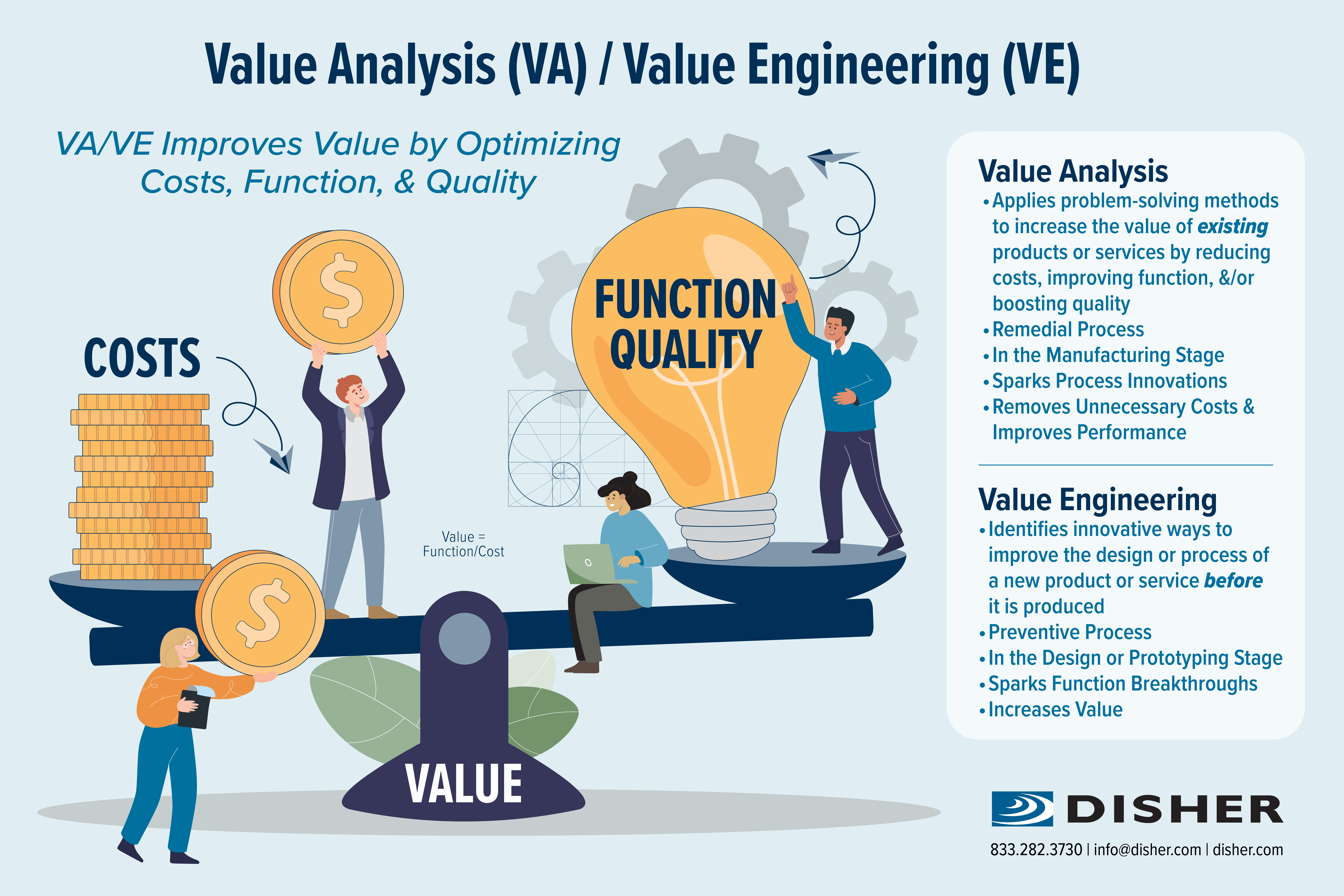 Value Analysis/Value Engineering (VA/VE) Workshops & Projects
Organizations need to maximize the value of their products and services. With DISHER's VA/VE services, customers can expect to gain up to 100 times their VE investment.
The DISHER team facilitates VE workshops to help manufacturers reduce costs, stay competitive, and boost innovation. Customers can also hire DISHER engineers for VE projects.
Manufacturers, B2B organizations, and nonprofits have tapped into the DISHER marketing team to build their go-to-market brand strategy. DISHER can help with any phase or step of the branding process:
Discover: In this phase, we take an objective look at your organization (vision, mission, and values) and your current state in the marketplace.
Define: The goal in this phase is to identify your audience, what they need, who you are, and how you can help your customers.
Develop: Here, we identify marketing tools that can help you communicate your brand story to your target audience.
Deploy & Measure: The final step is to determine what is working and what is not working, while also determining how we'll measure your success and refine the plan when needed.
Who Needs Business Consulting?
To thrive in a world of constant change, organizations of all types and sizes are looking for a partner they can trust to propel them forward. Manufacturers, suppliers, nonprofits, and business startups choose DISHER's business consulting services to help with advancing technologies, shifting market trends, and challenging culture dynamics.
What sets DISHER apart from other business services consultants?
We practice what we preach; we are not ivory-tower theorists. Our solutions are actionable strategies for real transformation. As a cross-functional business ourselves, we understand firsthand what works today and how to adapt for a successful future.
Business Consultants & Contractors
With DISHER, you have access to a large network of problem solvers who love to tackle complex challenges of all types.
After we learn about your specific needs and objectives, we will hand select the talent you need to proceed forward. Whether you need a business advisor, engineer, manufacturing specialist, project manager, or an entire cross-functional team, we will walk beside you until your objectives are reached.
Improve Your Organization with DISHER
Let us know about your pain points and your dreams for the future of your organization. Whether you are a small non-profit or large corporation, we will respond by rolling up our sleeves and going to work with our fully vetted team members, tools, and best practices.